Pas de deux 18 from the Dance series was selected for the Copley Society of Art's juried show, Renewal. The juror was Meg White, Director of Gallery NAGA, Boston.
Dance, like music and humor, is a time-tested means of renewing body and soul. In the Dance series, I use normally shed plant material and other found objects that even when static appear to move, to create dance poses, place them within miniature stages lit by ambient light to create a dimensional effect, capture these ephemeral installations in-camera, and with minimal post-processing, print on canvas. Hence the name of this medium, "Mixed media collage captured in 2D, archival pigment inks on canvas."
What you see is what I saw. I believe in creating in real-time, not after the fact. Why? Just because I choose to do it. This is not a moral stand!
Pas de deux 18 is a perfect example of the Dance series. This is an edition of one, the original, no copies will be printed. Shown below is a snapshot of the 13 x 19" wood-framed, canvas artwork.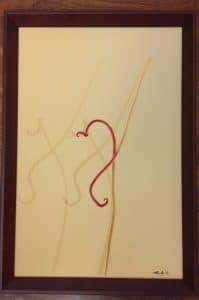 Please read more about the series, and the novel medium on the Art page of this website. To view this piece and the Dance series on my Art page, click here.
The Copley Society based in Boston, is the oldest non-profit private art association in the United States. Membership is juried, and at present, I hold the designation of Copley Artist.
Renewal is on show from February 28th to March 28th, 2019 at The Gallery of the Copley Society of Art, 158 Newbury Street, Boston, MA. For gallery hours, directions, and to read about the exhibition on CoSo's website click here. Opening reception for Renewal will be held on Thursday, February 28th from 5:30pm – 7:30pm.