Custard On Impact is a whimsical piece from the recently released Fluidity Of Attraction series. The series highlights the ephemeral nature of attraction, and represents a rare confluence of subject matter, artistic elements and medium. Please read more about the series, and the novel medium, "Captured Collage, Mixed Media in 2D," on the Art page of this website.
The piece was selected for the Copley Society of Art's juried show, "Summer Hours." The jurors were Hope Turner and Zola Solamente of the Arden Gallery on Newbury Street.
The Copley Society based in Boston, is the oldest non-profit private art association in the United States. Membership is juried, and at present, I hold the designation of Copley Artist.
Summer Hours is on show from July 13th to August 15th at The Gallery of the Copley Society of Art, 158 Newbury Street, Boston, MA 02116.
Shown below is a snapshot of the 21 x 32" wood-framed artwork printed by me on archival canvas. The label on the wall of the gallery describes the new medium.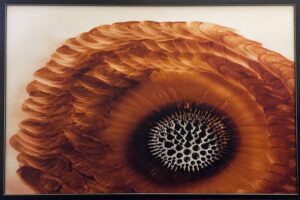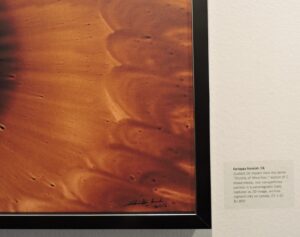 To view this piece and the Fluidity Of Attraction series on my Art page, click here.
For gallery hours, directions, and to read about the exhibition on CoSo's website click here.