"Levels of Interaction" from the Metal series was admitted to the juried Summer Members' Show: As Expected conducted by the Copley Society of Art (Co | So). The jurors were Richard J. Baiano, President and Stephanie Bond, Vice President of Child's Gallery, Boston.
The show runs from July 1st to August 19th, 2015 at the Copley Society of Art gallery, 158 Newbury Street in Boston. Please check the Co | So website for gallery timings. The opening reception is on Thursday, July 9th 5:30 – 7:30pm.
Depth and honesty, vital ingredients of human interaction are visualized as color and variegation. The deepest and most honest is luminous red and less variegated while the most superficial and dishonest is yellow and more variegated. Meaningful interactions can be both deep and honest, or superficial and honest. The variegation never completely disappears because honesty knows no bottom.
Shown below is a snapshot of the 24 x 36″ wood-framed artwork printed by me on archival canvas. View the Metal series on my Art page.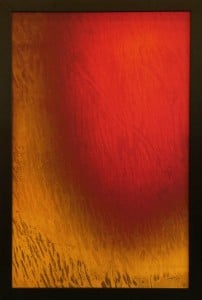 Click here to view the exhibition page on the Copley Society of Art website.