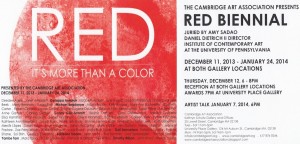 "Levitating jello 3" from the "Cosmic dreams" series was admitted to the Cambridge Art Association's, juried, Northeast Open Show, "Red Biennial 2013." This exhibition conducted each Fall is open to all artists based in the Northeastern United States. The show's color theme alternates each year between Red and Blue, and this year it was Red.
The show attracted almost 1000 entries from 333 artists, and was juried by Amy Sadao, Daniel Dietrich II Director of the Institute of Contemporary Art at the University of Pennsylvania. My art work was awarded one of two First Prizes.
The exhibition runs from December 11th, 2013 till January 24th, 2014, and will span both gallery locations of the Association –– University Place Gallery, 124 Mt. Auburn St., and Kathryn Schultz Gallery, 25 Lowell St., in Cambridge, MA.
My piece is at the University Place Gallery. Please click here for the exhibition's webpage, and click here to check gallery timings.
Please click here to preview and purchase the Red Biennial Gallery Book.