Jane Curran, calligraphist, and owner of Jane's Frames in Franklin, MA, will be exhibiting a visual rendition that she created of one of my poems at the "New England Poets –– Calligraphic Interpretations," a show presenting calligraphic renditions of poetry from the New England area. The show, organized by Masscribes, a New England calligraphy guild will be held at the Norfolk Public Library, Norfolk, MA from April 1 – May 3, 2013.
The opening reception is on Friday, April 5th from 5 to 8 pm, and will feature readings by some of the poets whose writings have been included in the exhibition. I will be reading that evening.
The poem that Jane selected is entitled "Ordinary and Extraordinary" from Volume II of "Truisms — mostly." Click on the image thumbnail below to view her rendition.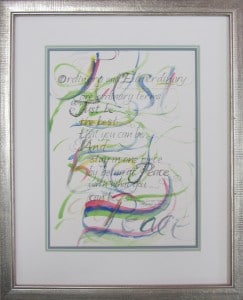 Please click on the Masscribes flyer below for additional information.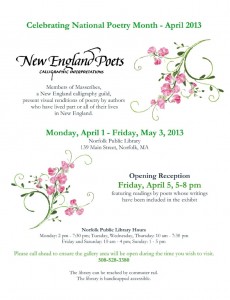 The thank you note from the exhibition co-chairs is shown below. They liked my presentation!