"Mask" from the "Glass Box" series was admitted to the juried "Pictures at an Exhibition" Art Exhibit, a collaboration between the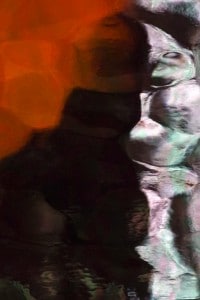 Boston Symphony Orchestra and the Copley Society of Art. The jurors were John Kirby, the founder of Boston Art, Inc. and Ron Della Chiesa of WGBH. The show is on at Symphony Hall, Boston from March 6th to April 13th. My piece is located in the front lobby to the right as you enter – see photos below.
The Boston Symphony Orchestra will perform Modest Mussorgsky's "Pictures at an Exhibition" at Symphony Hall on April 12th at 8 pm. Each movement of the suite is complemented by selected artwork. "Mask" was accepted for the movement, "The Gnome" which is the first movement after the opening Trumpet Fanfare.
The exhibition webpage is here.